Ubisoft anuncia que Skull and Bones ahora se estrenará el 9 de marzo de 2023 en Xbox Series X | S, PlayStation 5, Stadia, Amazon Luna y Windows PC a través de Epic Games Store y Ubisoft Store. Los jugadores también pueden suscribirse a Ubisoft+ en PC, Stadia y Amazon Luna para acceder al juego desde el primer día.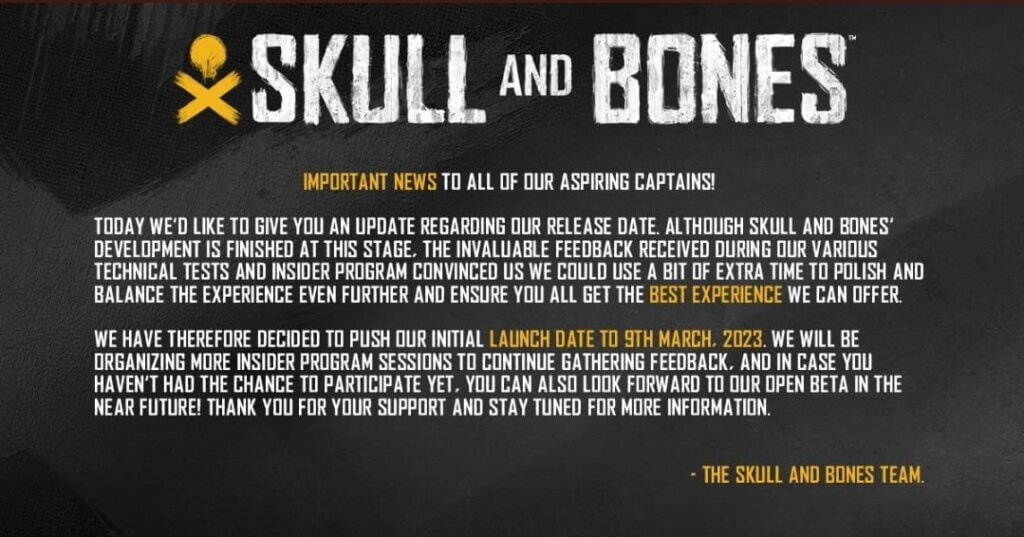 Una beta abierta se llevará a cabo antes del lanzamiento mundial del juego para garantizar que los jugadores vean de primera mano el peligroso mundo de Skull and Bones. Los jugadores tendrán la oportunidad de descubrir la versión única del juego sobre la fantasía de la piratería, su descarnado combate naval, así como los inmersivos y hermosos mares del Océano Índico del Siglo XVII.
Si bien el desarrollo del juego ha finalizado en esta etapa, el tiempo extra se utilizará para pulir y equilibrar aún más la experiencia utilizando los comentarios de los jugadores de nuestras pruebas técnicas y el Insider Program que ocurrieron en las últimas dos semanas. Esta es la decisión correcta tanto para nuestros jugadores como para el éxito a largo plazo del juego, ya que el 9 de marzo de 2023 proporciona una ventana de lanzamiento adecuada para esta nueva marca única.