El 22 de febrero es la fecha marcada en el calendario de Sony para el esperado lanzamiento de PlayStation VR 2, su casco de Realidad Virtual de nueva generación que será el complemento ideal para los poseedores de una PlayStation 5. Así, para calmar (o generar) más hype para los jugadores, la compañía anunció que 13 nuevos juegos estarán disponibles durante el mes de marzo.
Así, se suman a algunos de los ya anunciados como Horizon: Call of the Mountain, No Man's Sky, After the Fall y Resident Evil Village. Además, junto con estos títulos, la compañía dio a conocer la noticia que Gran Turismo 7 tendrá una actualización gratuita para PlayStation VR 2 para aquellos poseedores del juego, disponible el mismo 22 de febrero.
A continuación, les dejamos los juegos anunciados para la nueva generación de Realidad Virtual de PlayStation.
Kayak VR: Mirage 
Puzzling Places
Song in the Smoke
Synth Riders 
Thumper
NFL Pro Era
Creed Rise to Glory: Championship Edition
Tetris Effect
Así, la lista de títulos que llegarán luego del lanzamiento de PlayStation VR 2 serán los siguientes: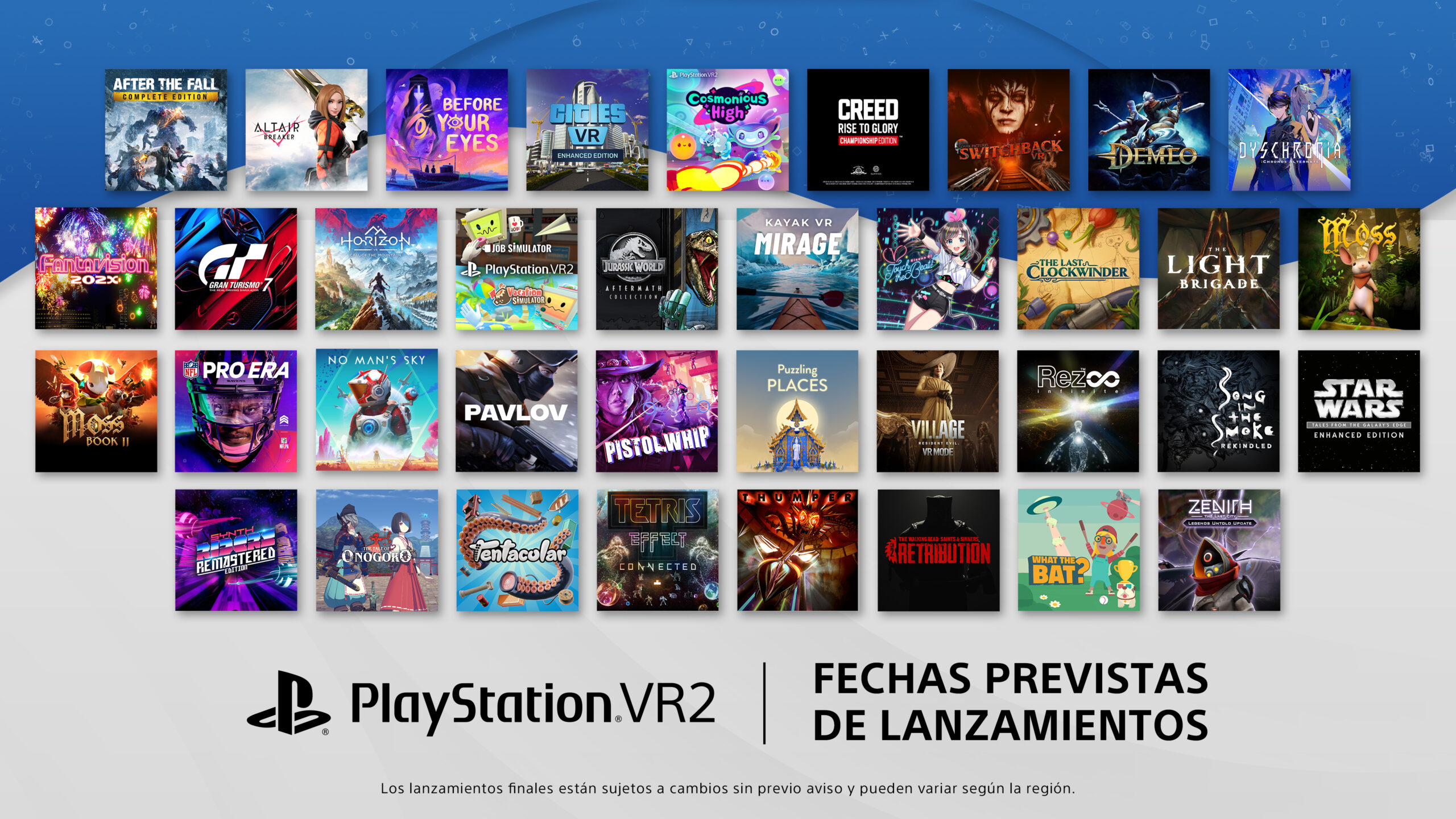 After the Fall (Vertigo Games)
Altair Breaker (Thirdverse)
Before Your Eyes (Skybound Interactive, ventana de lanzamiento)
Cities VR (Fast Travel Games) 
Cosmonious High (Owlchemy)
Creed Rise to Glory: Championship Edition (Survios, ventana de lanzamiento)
The Dark Pictures: Switchback (Supermassive, ventana de lanzamiento)
Demeo (Resolution Games)
Dyschronia: Chronos Alternate (MyDearest Inc., Perp Games)
Fantavision 202X (Cosmo Machia, Inc.)
Gran Turismo 7 (a través de una actualización gratuita de la versión de GT7 para PS5)
Horizon Call of the Mountain (Firesprite, Guerrilla)
Job Simulator (Owlchemy)
Jurassic World Aftermath (Coatsink)
Kayak VR: Mirage (Better Than Life)
Kizuna AI – Touch the Beat! (Gemdrops, Inc.)
The Last Clockwinder (Pontoco/Cyan Worlds)
The Light Brigade (Funktronic Labs; la compra incluye las versiones para PS VR y PS VR2) 
Moss 1 y 2 remasterizados (Polyarc)
NFL Pro Era (StatusPro, Inc., gratis como actualización para PS VR2)
No Man's Sky (Hello Games, ventana de lanzamiento)
Pavlov VR (Vankrupt)
Pistol Whip (Cloudhead, actualización gratuita en  SIEJ). 
Puzzling Places (Realities.io, actualización gratuita)
Resident Evil Village (Capcom, actualización gratuita de la versión para PS5 de RE Village) 
Rez Infinite (Enhance)
Song in the Smoke (17 Bit)
STAR WARS: Tales from the Galaxy's Edge (ILMxLab)
Synth Riders (Kluge Interactive, actualización gratuita)
The Tale of Onogoro (Amata K.K)
Tentacular (Devolver)
Tetris Effect (Enhance)
Thumper (Drool LLC)
The Walking Dead: Saints & Sinners: Ch. 2: Retribution (Skydance, ventana de lanzamiento)
Vacation Simulator (Owlchemy)
What the Bat (Triband)
Zenith: The Last City (Ramen VR, actualización gratuita)