Warner Bros. Games y Turtle Rock Studios anunciaron el lanzamiento de un roadmap post lanzamiento de Back 4 Blood que detalla varias actualizaciones gratuitas y el Pase Anual que llegará al shooter zombi en primera persona y cooperativo para este año. Las próximas actualizaciones gratuitas incluirán un modo fuera de línea en solitario con progresión de campañas, un nuevo nivel de dificultad, un nuevo modo cooperativo, tarjetas y tipos de tarjeta completamente nuevos, un evento para la temporada vacacional y mucho más.

El roadmap también destaca la primera expansión del Pase Anual de Back 4 Blood, llamado Tunnels of Terror, que estará disponible el próximo año. Tunnels of Terror contará con nuevo contenido de la historia, Limpiadores e Infectados jugables, tipo de actividad, armas, cartas y skins exclusivos; y hay más información por conocerse en el futuro. El Pase Anual incluye Tunnels of Terror y dos expansiones adicionales ya disponibles, también como parte de Back 4 Blood Deluxe Edition (solo digital) y de Back 4 Blood Ultimate Edition.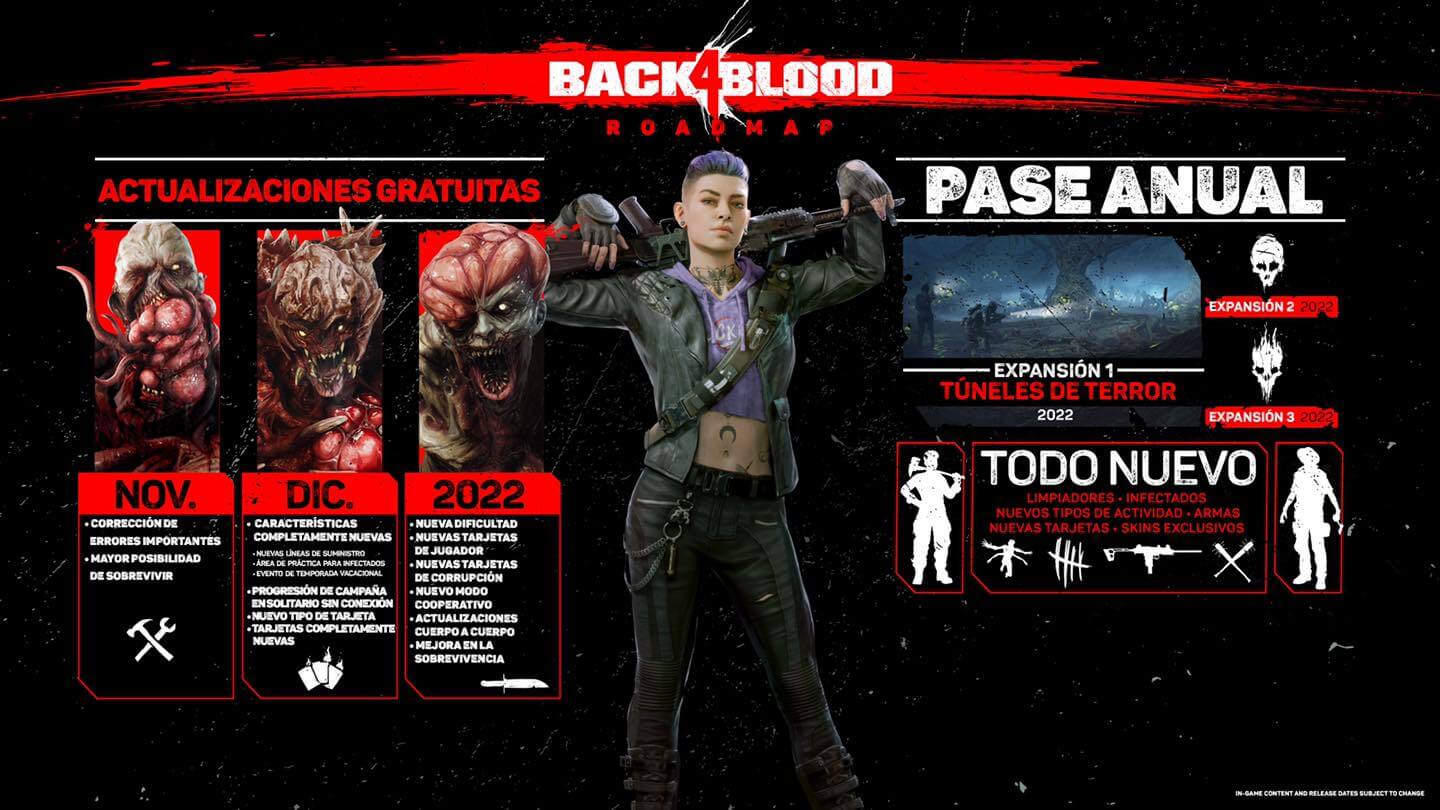 A continuación se muestra un resumen completo de las próximas actualizaciones gratuitas:
Progreso de campaña individual sin conexión
Nuevas líneas de suministro
Área de práctica Infectados
Evento de temporada vacacional
Nueva dificultad
Nuevo modo cooperativo
Nuevo tipo de tarjeta
Nuevas cartas de jugador y corrupción
Actualizaciones en peleas cuerpo a cuerpo
Mejoras en la calidad de vida
Corrección de errores
Back 4 Blood ya está disponible para Xbox Series X | S, consolas Xbox One, PlayStation 5, PlayStation 4 y PC.