Paramount+ reveló el trailer de la nueva temporada de su serie dramática original MAYOR OF KINGSTOWN, que estrenará en exclusiva el jueves 23 de Febrero. Protagonizada por Jeremy Renner y la ganadora del Oscar Dianne Wiest.
"MAYOR OF  KINGSTOWN sigue a la familia McLusky, agentes del poder en Kingstown, Michigan,  donde el negocio del encarcelamiento es la única industria próspera. Abordando temas de  racismo sistémico, corrupción y desigualdad, la serie ofrece una cruda mirada a su intento de  poner orden y justicia en una ciudad que no los tiene. La serie también está protagonizada por  Dillon, Taylor Handley, Emma Laird, Tobi Bamtefa, Derek Webster, Nishi Munshi, Hamish  Allan-Headley y Aidan Gillen"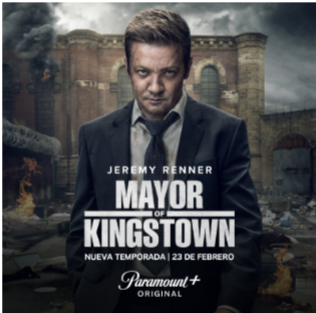 Producida por MTV Entertainment Studios, 101 Studios y Bosque Ranch Productions,  MAYOR OF KINGSTOWN cuenta con la producción ejecutiva de Sheridan, Dillon, Renner,  Antoine Fuqua, David C. Glasser, Ron Burkle, Bob Yari, Michael Friedman, Dave Erickson,  Regina Corrado y Stephen Kay.
La segunda temporada de MAYOR OF KINGSTOWN es la última incorporación al creciente  catálogo de Sheridan en Paramount+, que incluye 1883, TULSA KING y 1923.  La primera temporada de MAYOR DE KINGSTOWN está disponible en exclusiva en  Paramount+.
Mayor of Kingstown es una serie que recomiendo ver dado su estilo crudo y real, eso sin contar unas actuaciones excelentes de todo el reparto tanto principal como secundario.
Si querés estar al día con las noticias de videojuegos, te invitamos a sumarte a nuestra Fan en 
Facebook
 y 
Zona Geek
, nuestra comunidad en Facebook a través de este 
LINK.